Smile Gallery
Smile Makeovers are a popular means of giving you the smile you've always dreamed of. You can see examples of smile makeovers in both the Porcelain Veneers and Aesthetic Crowns sections.
Aesthetic Crowns
Carmen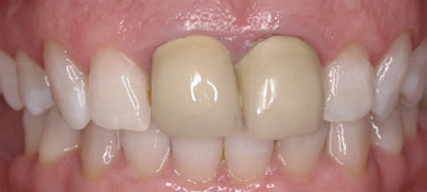 Porcelain fused to metal crowns rarely look good on front teeth. They're too opaque.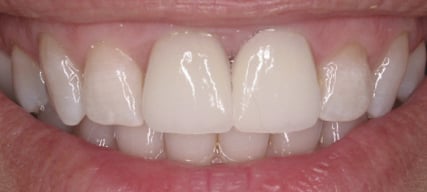 Much better!
Carmen did not want a full smile makeover. Her main concern were the crowns on her two front teeth.
John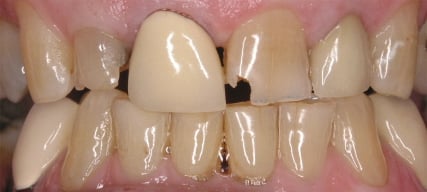 Pre-Op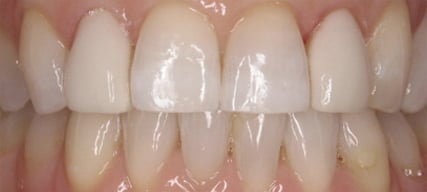 Much more natural looking!
John's front teeth were dark and chipped. When there are several different shades going on with a patient's smile, the ideal approach with smile makeovers is to restore all of the visible teeth. Sometimes finances rule that option out. Here is a good example of treating a minimal number of teeth, and finding a shade that "blends in" to the many different shades nearby.
Norma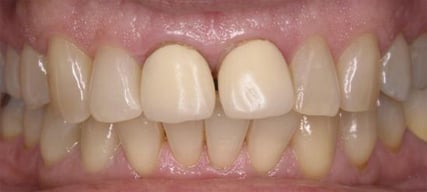 Pre-Op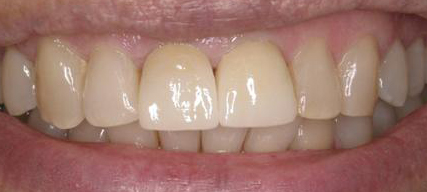 Empress crowns look very natural!
Norma's case is very similar to Carmen above. She did not want a smile makeover, but only a few crowns.
CEREC CAD/CAM
CEREC CAD/CAM technology has been under continuous development since the mid-80′s. It can be used to make several different types of all-ceramic restorations, such as full or partial coverage crowns, porcelain veneers, and porcelain inlays (fillings). The vast majority of the time we only need a single visit to complete the case.
These restorations can be polished to a very high shine, and look very nice. However, if the doctor has his own porcelain oven with a variety of porcelain tints/shades, the results can be spectacular. Dr. Quevedo has the full set-up to custom match most shades and then glaze the restoration to make them look and feel so much better than merely polishing them.
Carlos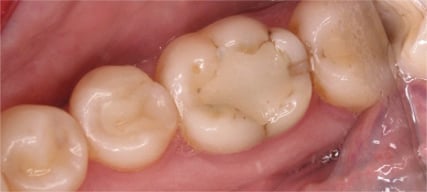 Notice the vertical cracks!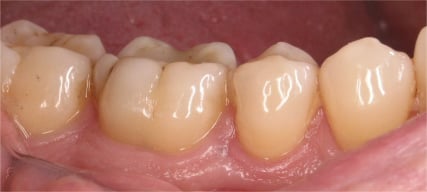 Pre-Op side view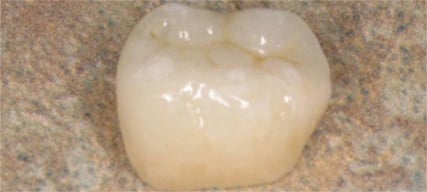 The Cerec crown after glazing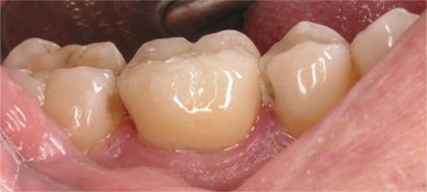 After bonding in place
Carlos presented with a molar cracked in several different places. It was in danger of splitting in two!
Richard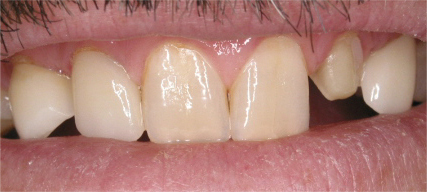 Richard walked in with a missing L Porcelain Veneer two days before Christmas!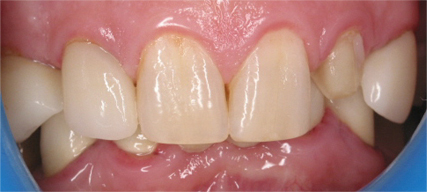 We scanned the R lateral incisor and the computer generated a mirror image of it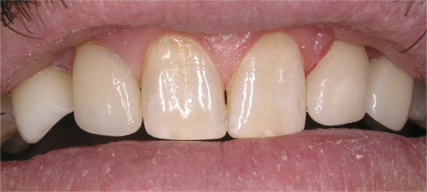 Post Op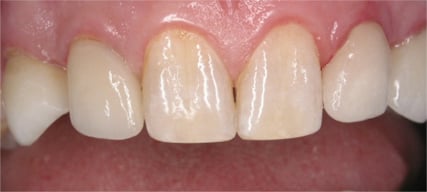 Notice how it makes the two lateral incisors symmetrical.
Richard came to our office two days before Christmas for the very first time. He had abnormally small lateral incisors that had been restored with porcelain veneers 2-3 years earlier…and now the left one had fallen off. Since it was broken he did not bring it with him. Here's how he looked. With Cerec, Dr. Quevedo was able to scan the veneer on the right side and make a mirror image of it to place on the left side. Thanks to Cerec AC, Richard did not have to worry about looking snaggle-toothed for all those Christmas pictures! When you need a crown or veneer in a hurry, absolutely nothing solves the problem as easily as Cerec.
Joy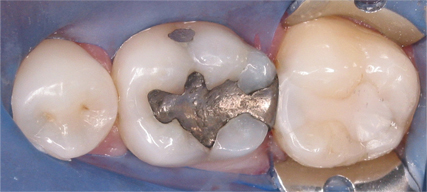 Pre-Op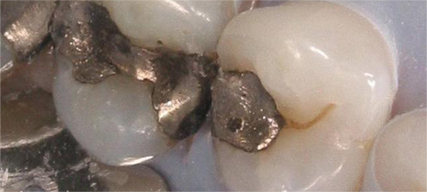 Pre-Op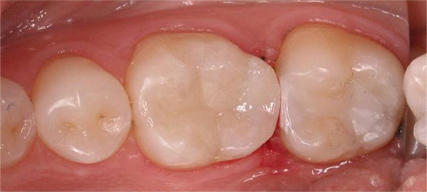 Post-Op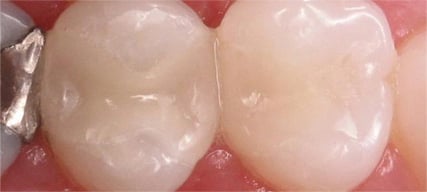 Post-Op
My dental assistant Joy wanted me to replace some of her old amalgam fillings with porcelain inlays. Here are the before and after photos of some we did on the top as well as some on the bottom arch.
Clear Aligners
Amanda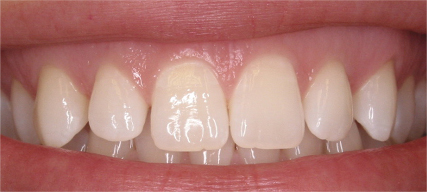 Pre-Op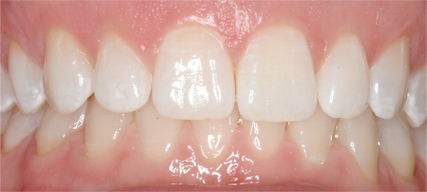 Post-Op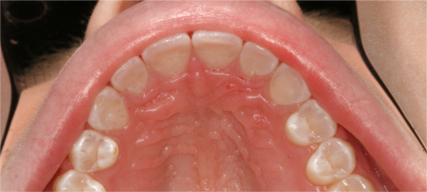 Post-Op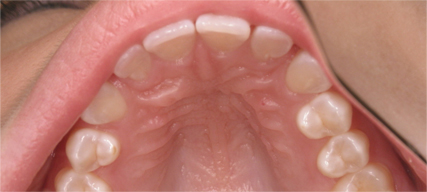 Post-Op
Clear aligners such as Invisalign and Clear Correct are a great way to correct mild to moderate orthodontic issues without dealing with brackets and wires. The results are not as predictable as using brackets and wires, but not everyone is willing to go that route. Here are some cases to let you see how great you can look.
Ginger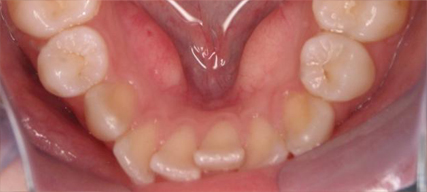 Pre-Op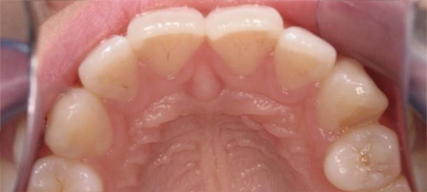 Pre-Op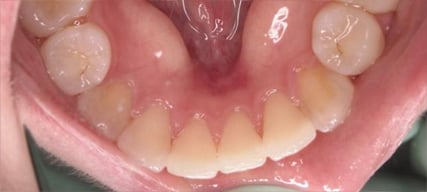 Post-Op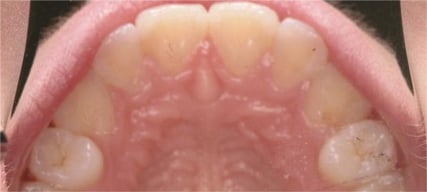 Post-Op
Learn more about clear aligners
Composite and Porcelain Fillings
Steve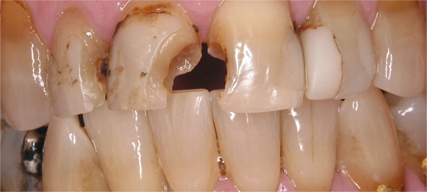 Dr. Quevedo's first prize winning anterior case. Pre-op.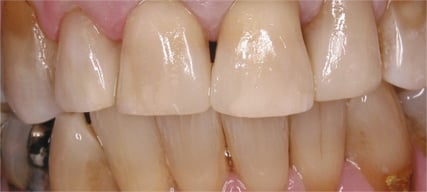 Post-op
Composite resins (white fillings) look great, and have many advantages over dental amalgam (silver-mercury) fillings. They are more technique sensitive to do than amalgams…but when done properly…they last a long time. The best, most natural composites are created in layers that mimic not only the shade of the tooth, but the opacity versus translucency of the tooth. We'll begin by showing you the four front teeth Dr. Quevedo did for Steve, which were entered into an international competition. Dr. Quevedo's first prize winning anterior case.
Additional Examples
Pre-Op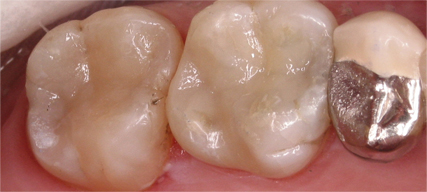 Post-Op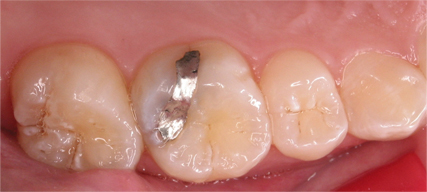 Pre-Op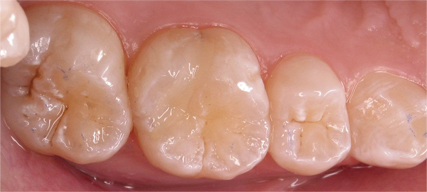 Post-Op
Direct Bonding
Skye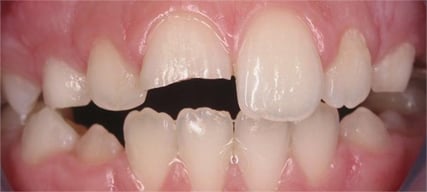 Pre-Op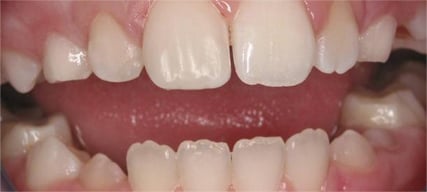 Post-Op
Skye is a pretty young lady who accidently bumped her front tooth. She is too young to ever consider porcelain veneers or crowns….so bonding some composite resin directly onto the teeth makes perfect sense.
Mayra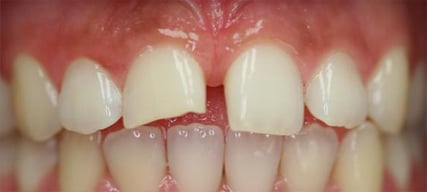 Pre-Op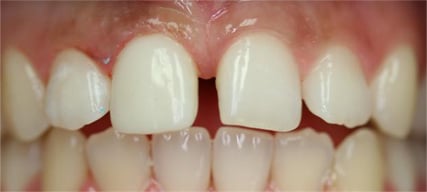 Post-Op
Mayra also broke her right front tooth. She also has excessive wear on her left front tooth that has caused it to look uneven. Mayra did not want her gap closed or the left front tooth bonded to level it out yet. We'll get to that when she's ready.
Mike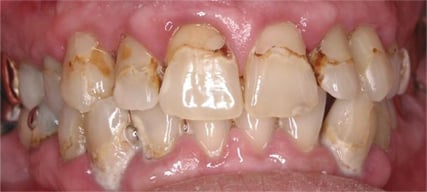 We'll begin with the front six. Rome wasn't built in a day!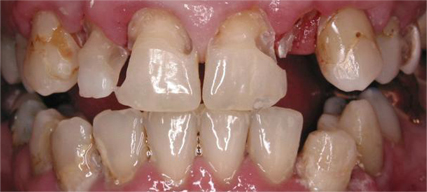 Decay removal begun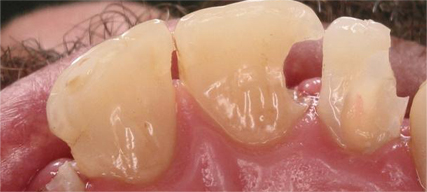 Close up of decay removal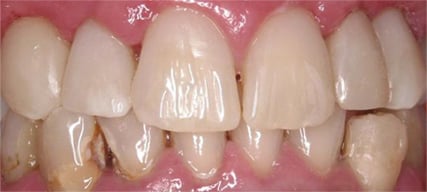 He can keep these clean now!
Mike is an extreme case. Years of neglect had done a lot of damage. We began with four of his front teeth, knowing that it was the beginning of a LONG journey. When things get this bad, you need to focus on removing decay and creating smooth contours and surfaces that can be more easily cleaned/maintained. As you might imagine, flossing is impossible when you have big holes on the sides of your teeth! You'll notice there wasn't much left of his left lateral incisor after removing all the decay. Dr. Quevedo had to literally "free hand" this patient a new tooth out of composite resin. Not an easy task. This patient ultimately needed crowns for most of these teeth, along with treatment for the gum disease. As I already mentioned, the patient needs to look nice in the interim and they also need to be able to adequately clean their teeth. This is easier to do with smooth, clean surfaces.
Laser Dentistry
We have two lasers in our office that allow us to do many different types of procedures. The Powerlase AT is both a hard tissue and soft tissue laser, which means it can cut hard things like teeth and bone, as well as soft things like the gums.
We do many of our small to medium sized fillings with no anesthesia using the Powerlase AT. Our amazing Periolase MVP-7 is used only for treatment of soft tissues, especially with respect to treating periodontal infections. With either of these lasers we can:
Treat canker sores and fever blisters. Laser treatment takes away the pain and clears them up in about half the time.
Remove small growths called fibromas.
Do frenectomies…removing those thin little pieces of skin that tie down the lips or tongue in some patients.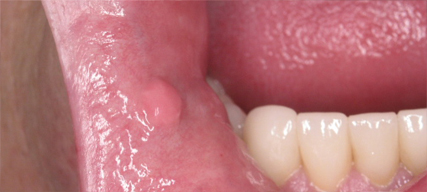 No shots were needed to comfortably remove this fibroma.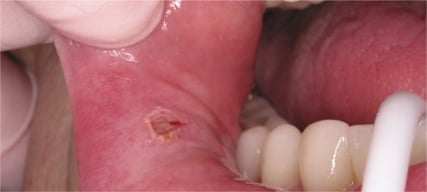 No bleeding and no stitches, either!
Learn more about laser dentistry
Porcelain Veneers & Smile Makeovers
Donna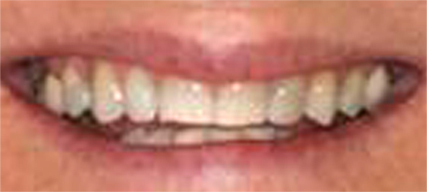 First of all, we had to remove those four dark bonded bridges, and then close the spaces and correct rotated teeth with Invisalign.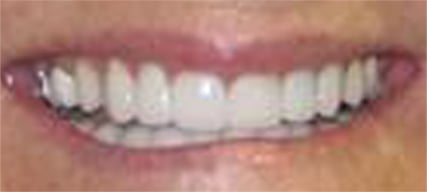 Then we whitened her teeth with Opalesence and began the process of placing new crowns and porcelain veneers as described above.
Donna is a good example of a Smile Makeover. Her old dentist removed all four of her first premolars and filled in the gaps with dark bonded metal bridges. She was very unhappy with them, and wanted to lighten her teeth and get a prettier smile while she was at it with some porcelain veneers. You can see her video testimonial on the Testimonials page.
Nyda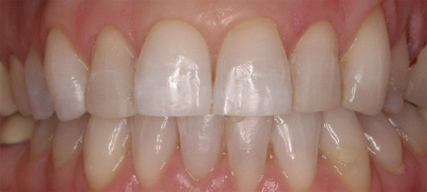 Nyda's smile pre-op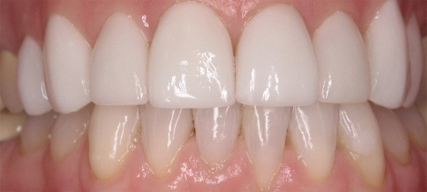 Nyda's new smile!
Nyda had a fairly nice smile, but the shape and shading was irregular from tooth to tooth, so she wanted a smile makeover to even things out.
John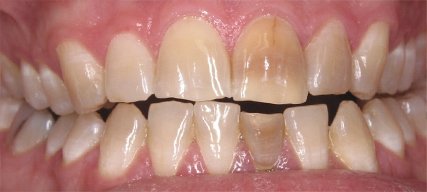 John's smile pre-op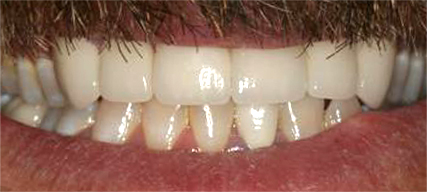 John's new smile!
It isn't only the ladies who want a more esthetic smile! John had some dark teeth that were chipped. A combination of whitening his teeth and then placing some porcelain veneers and one crown was all it took!
Audrey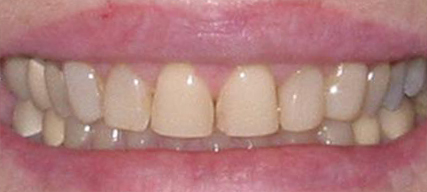 Audrey's smile at the beginning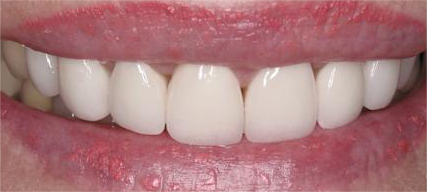 Audrey's new veneers made a huge difference!
Audrey also wanted to brighten up her smile and take care of some old, stained resin fillings.