7 Foods to Eat Right Now for Healthier Teeth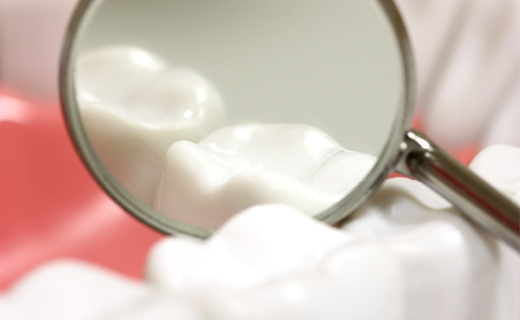 Teaching kids to brush their teeth is a cornerstone of parenting. It is likely that your parents fought tooth and nail to ensure that you knew the basics of good dental care—even at the risk of a temper tantrum before bed. As adults, however, caring for our teeth and gums often becomes an afterthought—a dangerous afterthought. Not only does skipping out on brushing your teeth or flossing impact your dental health, the foods you choose can play a role in helping or harming your teeth and gums.
While dental experts say there are foods that can damage the teeth, there are also foods that can optimize dental health and reduce the negative effects of bacteria and acid in your mouth. According to clinical studies, the following seven foods will help to keep your teeth and gums healthy:
Cheese. It's not only the Dairy Farmers of America who promote the benefits of this casein-rich dairy product. Dental experts also recommend cheese for strengthening the tooth's surface. And it's low in sugar and acid, making it a better choice than milk for dental health.
Celery. Eating raw vegetables, in general, helps to clean your teeth because of the high amount of saliva produced. But what's also great about celery is that as you chew it, it breaks down into fibrous strands that clean your teeth. Plus, it's one of those "superfoods" that actually has a negative calorie balance and is known to lower blood pressure.
Pears. Much like vegetables, the fibrous nature of fruits is good for your teeth. In fact, a South African study found that pears offer the most protection against tooth decay by limiting drops in pH. Bananas came in just behind pears.
Plain Yogurt. A daily 6-ounce serving of sugar-free, plain yogurt is a cavity fighter, according to research. Lab results suggest that plain yogurt's healthy bacteria can eliminate germs and bacteria in your mouth.
Sesame Oil. Twenty minutes ofswishing with sesame oil can rid your mouth of harmful bacteria. Some even claim they've experienced whiter teeth after dental care with sesame oil. Experts say it's much like chlorhexidine mouthwash, which reduces gingivitis, plaque buildup, and bacteria.
Sugar-Free Gum. Although artificial sweeteners are considered controversial by many health experts, xylitol, which is found in sugar-free gum, is a plaque fighter that inhibits the harmful bacteria that erode tooth enamel, while sugar actually feeds the damaging bacteria.
Water. Your body is made up of 60% water, so it's not surprising that water is good for your teeth, too. The National Institute of Dental and Craniofacial Research says that 67% of U.S. public water sources have the correct levels of fluoride to inhibit tooth decay.  Fluoride "remineralizes" tooth enamel and reverses the damage from acids, which cause tooth decay.
Now, you have another reason to choose a diet filled with nutritious foods—protecting the health of your teeth and gums. But most important to your dental care is regular visits to your dentist in Sweetwater. You'll find a compassionate and affordable dentist at who will provide the quality dental care you deserve.
To learn more about family dentistry from an affordable dentist in Sweetwater, call today at or make an appointment.
Advanced Dental Care offers affordable family dentistry and gentle, compassionate dental care in Sweetwater. With 21 affiliated practices throughout Florida, our offices are conveniently located with extended hours to meet your needs. At , we provide most dental services, from basic preventative care and general dentistry to specialized procedures and complete dental reconstruction. We accept most dental insurance plans and offer affordable financial solutions for any budget. Patient satisfaction is our top priority and we strive to provide the exceptional, affordable dental care and personal touch that lead to lasting relationships. A smiling patient is our greatest reward and we look forward to keeping those smiles healthy, beautiful, and bright. Discover an affordable dentist who truly cares at .