A Focus on Children's Dental Health Month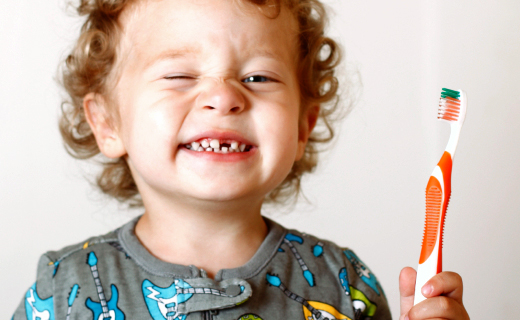 In the United States, it is the youngest members of the population that are suffering most from tooth decay. While the overall incidence of tooth decay has declined over the last ten years, more and more children are being affected by it—children as young as two years old are getting cavities in their primary teeth. In an effort to reverse this trend, dental care professionals, like your family dentist in Sweetwater, and the American Dental Association are taking part in programs designed to help parents teach their children about proper dental care and bring awareness of the importance of good dental hygiene to communities across the country.
February marks the celebration of the American Dental Association's 65-year program, National Children's Dental Health Month (NCDHM), designed to promote awareness of proper oral hygiene habits in children. The program began in the 1940s, uniting dental care professionals with their community to combat ailing dental health across the country.
Today, the program extends beyond one month of the year and strives to give parents and teachers the tools necessary to teach young children about proper dental health care all year long.
One of the most influential aspects of NCDHM is Give Kids a Smile Day, which began as a single, day-long event in Ohio and has since expanded into a multi-city, year-round event throughout the United States. Give Kids a Smile is an event designed for dental care professionals and other oral care teams to offer their time and services to underprivileged kids in the community. At these events children can receive dental care screenings, essential treatments, and enhanced education about dental health.
These programs serve millions of American communities each year and bring dental care to more than 450,000 children who would not otherwise have the opportunity.
Bringing Home Healthy Dental Care Habits
Optimal dental care begins at home with the emergence of your child's first tooth. You can make your child a part of the experience from day one, allowing him or her to pick out their own toothbrush and toothpaste, as well as making routine brushing a family affair. Basic habits to teach your child include:
Brushing for at least two minutes twice a day, or after each meal, carefully brushing all areas of the mouth.
Flossing once a day. Once your child has two teeth that emerge side by side, you can begin teaching them how to floss.
Choose a toothbrush and toothpaste designed for children—talk to your dentist about the recommended brands especially designed for kids.
Teach your child the importance of a "teeth friendly" diet. Consuming too much sugar can lead to tooth decay, while fruits and vegetables can help fight cavities.
Ensure that your child values trips to your family dentistry professionals and is not afraid of the experience. Begin routine trips at an early age and introduce your child to the dental care team.
To learn about our family dentistry practice in Sweetwater, call today at or make an appointment.
Advanced Dental Care offers affordable family dentistry and gentle, compassionate dental care in Sweetwater. With 21 affiliated practices throughout Florida, our offices are conveniently located with extended hours to meet your needs. At , we provide most dental services, from basic preventative care and general dentistry to specialized procedures and complete dental reconstruction. We accept most dental insurance plans and offer affordable financial solutions for any budget. Patient satisfaction is our top priority and we strive to provide the exceptional, affordable dental care and personal touch that lead to lasting relationships. A smiling patient is our greatest reward and we look forward to keeping those smiles healthy, beautiful, and bright. Discover an affordable dentist who truly cares at .