Baby's dental care sets a pattern for life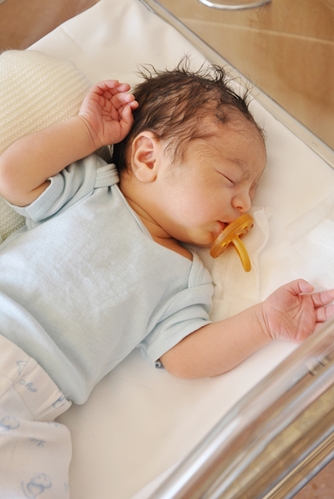 Baby teeth is a bit of a misnomer since a child's temporary teeth are often not fully replaced by adult teeth until about age 12.
But babies' teeth are another matter. As they come in, the teeth in a baby's mouth need to be checked regularly by a family dentist, cleaned thoroughly and monitored for tooth decay. In that respect, they are as important as adult teeth because babies' ability to chew and speak can be influenced by how well the earliest teeth are maintained.
Eventually, a baby's 20 primary teeth will make way for the 32 permanent teeth that will be with them into adulthood. To make sure the early teeth are as healthy as they can be while they last, babies should be taken on a visit to the dentist office as early as when the first tooth appears – typically at a few months old – or at least by their first birthday.
Usually children stop sucking on thumbs, pacifiers and fingers on their own. If they continue until age 3, a pediatric dentist may advise using a mouth appliance to discourage sucking.
Baby oral hygiene
A special concern of infant dental health is how to avoid tooth decay while children are still nursing and drinking from a baby bottle. According to MyChildrensTeeth.org, the website of the American Academy of Pediatric Dentistry, nursing children should only have water in their bottles when they are put to sleep during naps and at night. A coating of juices, milk or formula on their teeth while they sleep can break down tooth enamel.
Parents don't have to wait until a tooth appears to practice good oral hygiene on their babies. During infancy, gums can be cleaned with a water-dampened cloth or soft infant toothbrush. No toothpaste is necessary until teeth appear.
When there are teeth to brush, a tiny smear of fluoride toothpaste on a baby toothbrush will be all that's needed. Use water to wash it away since babies aren't able to spit out the toothpaste. The cleaning should take place once daily before bedtime.
In time, young children can be taught to brush their teeth, often between the ages of 2 and 5. A pea-size dollop of toothpaste and a cup of water to rinse are their tools. And their instructions to spit, not swallow the paste, will set their oral hygiene pattern for life.