Braces for Adults are On-Trend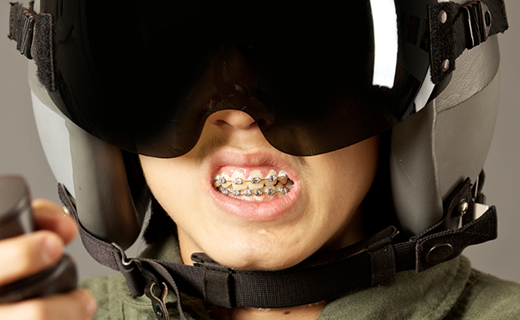 You're never too old for a great smile. As more and more adults learn about new types of affordable braces and aligners that can straighten out their crooked teeth and correct lifelong cosmetic problems, orthodontists are treating increasing numbers of adult patients. Many are ready to take the plunge, and wear braces for a year or two in the hopes of achieving the smiles of their dreams. It's no longer necessary to wear a mouth full of metal to correct spacing problems and other abnormalities. Smaller and lighter brackets, less-visible clear and ceramic options, fewer wire accessories, and new removable aligners are just a few of the advancements that make braces for adults appealing to late bloomers.
If an adult's parents couldn't afford to get them braces when they were young, they may now be able to cover the cost themselves. Some may have a greater appreciation of the cosmetic and health benefits of braces now that they are older. With age comes patience and wisdom; it may be easier to accept the temporary inconvenience of wearing braces as an adult, especially if it promises an improved social or professional life.
Looking great is just one reason to wear braces. Dental professionals point out that correcting your bite also has health benefits. People with misaligned teeth are at higher risk of tooth decay and periodontal disease because it is harder to reach the plaque that accumulates between their teeth. People with defective bites may also have difficulty chewing their food properly, and this can cause gastrointestinal problems. Getting braces as an adult can improve both self-esteem and overall health.
To get the dental care you deserve from an affordable dentist in Sweetwater, call today at or make an appointment.
Advanced Dental Care offers affordable family dentistry and gentle, compassionate dental care in Sweetwater. With 21 affiliated practices throughout Florida, our offices are conveniently located with extended hours to meet your needs. At , we provide most dental services, from basic preventative care and general dentistry to specialized procedures and complete dental reconstruction. We accept most dental insurance plans and offer affordable financial solutions for any budget. Patient satisfaction is our top priority and we strive to provide the exceptional, affordable dental care and personal touch that lead to lasting relationships. A smiling patient is our greatest reward and we look forward to keeping those smiles healthy, beautiful, and bright. Discover an affordable dentist who truly cares at .