Dental Dentures – Common Problems with False Teeth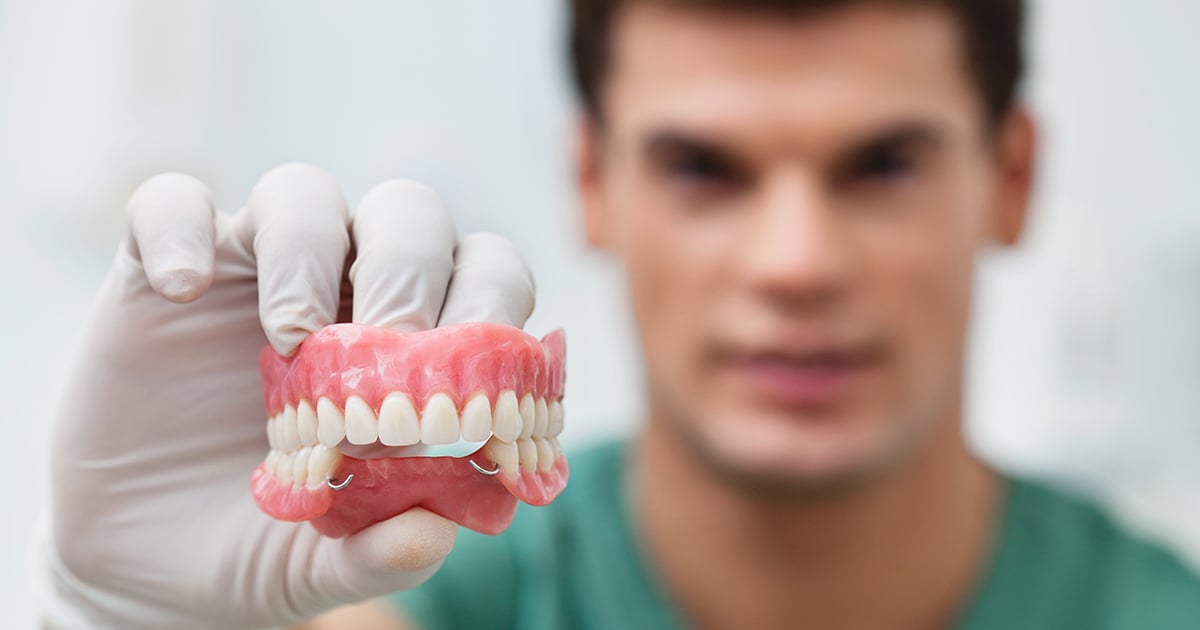 In the 1940s, dental visits weren't common. Periodontal disease and tooth loss were rampant in the age before fluoride, dental floss, and root canals. People wore dental dentures at a much younger age than they do today. With today's advanced dentistry, the number of people wearing false teeth is lower, yet one in four seniors have lost their teeth after the age of 65. Affordable quality dentures can be a lifesaver for those who need them, but even the best dentures come with a few problems.
Common Problems with Dental Dentures
The best dentures are the ones you forget are even there. That's why painful, ill-fitting dentures are the biggest problem facing denture wearers. Discomfort is usually due to dentures sliding inside the mouth because they don't fit snugly against the gums. Soreness and swelling soon result. Friction may cause painful calluses and sores to develop. The way dentures fit can be altered by gradual changes in the jaw and gum tissues. These occur slowly, so denture wearers may not notice anything until symptoms develop. Regardless of the cause, dentures that don't fit well can be fixed by a dentist. The repair may be accomplished by relining the denture using an acrylic mold, recasting the denture, or inserting mini-implants into the jawbone to stabilize the denture.
Avoiding Common Denture Problems
In some cases, problems with denture fit and function can be related to improper care. Even the best dentures require a little attention. These tips can help you keep your affordable quality dentures from becoming a costly problem:
Most importantly, clean and brush dentures every day using products designed for dentures.
Always remove and soak dentures overnight.
Store your affordable quality dentures in a safe location away from children and pets.
Visit your dentist regularly for checkups. He or she may detect potential problems before they cause symptoms.
To get the dental care you deserve from an affordable dentist in Sweetwater, call today at or make an appointment.
Advanced Dental Care offers affordable family dentistry and gentle, compassionate dental care in Sweetwater. With 20 affiliated practices throughout Florida, our offices are conveniently located with extended hours to meet your needs. At , we provide most dental services, from basic preventative care and general dentistry to specialized procedures and complete dental reconstruction. We accept most dental insurance plans and offer affordable financial solutions for any budget. Patient satisfaction is our top priority and we strive to provide the exceptional, affordable dental care and personal touch that lead to lasting relationships. A smiling patient is our greatest reward and we look forward to keeping those smiles healthy, beautiful, and bright. Discover an affordable dentist who truly cares at .