Follow rules of good brushing for best dental care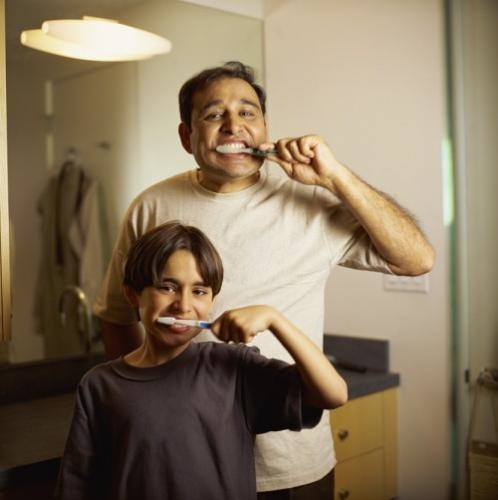 Something as simple as brushing one's teeth shouldn't need rules to follow. However, like most other things, there's a right and a wrong way to do it. Dentists agree that observing certain rules gets the most out of this vital part of oral hygiene.
Brushing first thing in the morning and before retiring for the night is the routine that most people follow. It's the advice of everyone's family dentist, and with good reason. Saliva tends to dry up during the night, allowing germs and bacteria to develop because they aren't being cleared away for a number of hours.
Getting rid of the bacteria that's accumulated all day before one goes to bed will limit how much can fester overnight. In the morning, brushing away any night gunk has the same good effect. With this easy regimen, people don't have to make more visits to the dentist office than necessary.
During the day, and particularly right after a meal, rinsing the mouth with water can be the best approach. The residual acid left after eating foods and beverages that contain citrus fruit, tomatoes and soda has a chemical reaction with tooth enamel that makes it soften and become vulnerable when brushing occurs too soon after eating. Water cleans away at least some food particles without causing corrosion.
The rules
A quick swish of a toothpaste-loaded toothbrush inside the mouth may leave a pleasant taste, but it isn't the most hygienic way to brush. Plan on spending two minutes when brushing teeth with a soft bristle brush to get the maximum coverage.
People often make the mistake of brushing horizontally, moving the toothbrush from side to side across their teeth. But enamel forms vertically, which means that brushing in that direction breaks it down faster than when brushing occurs up and down.
Instead of holding the brush straight across, KnowYourTeeth.com recommends holding it at a 45-degree angle and gently brushing in a circular  movement. First tackle the outside, then the inside of teeth. Follow that with a quick brush on the tongue – where much bacteria resides – followed by the top surfaces where chewing takes place and between teeth.
Finally, there's a dizzying array of toothpaste available these days, some focusing on tartar control, others on whitening and some claiming to strengthen tooth enamel. But a vital ingredient to look for is fluoride, which has been shown in countless studies to eliminate bacteria that develops around gums as well as plaque build-up on teeth.