Fundamental Facts About Professional Teeth Cleaning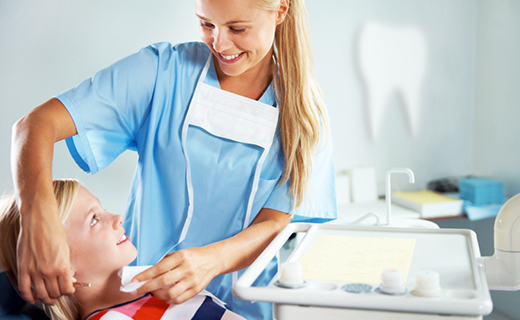 Most everyone these days realizes the importance of brushing and flossing when it comes to maintaining healthy teeth and gums. Daily removal of cavity-causing bacteria is a concept that just about everyone understands, even if they have the occasional lapse in their dental care habits. It is important to realize that these daily routines are not, on their own, enough to keep teeth in their best possible condition. A professional teeth cleaning performed every six months by a dental hygienist, in conjunction with proper home dental care, are the keys to achieving an ideal level of oral health.
Some may feel that this recommendation smacks of overkill, but there really are good reasons why dentists believe that having a teeth cleaning appointment every six months is critical to maintaining good oral health. Within a day or two after a professional cleaning, the mouth is already facing a resurgence of the bacteria that the dental hygienist removed. Though a strong home dental hygiene regimen that includes meticulous brushing and flossing can help minimize the presence of cavity-causing bacteria, it can only do so much.
Even the best brushers and flossers will end up with plaque build-up by the time six months have passed since their previous teeth cleaning. The longer this plaque is allowed to sit on the teeth, the greater ability it has to calcify onto the surface. If that occurs, it becomes extremely stubborn and virtually immune to home removal methods. At that point, the expert help and specialized tools of a dental hygienist will be required to remove it.
In addition to removing bacteria and plaque accumulations that can lead to tooth decay and gingivitis, there are other important reasons to visit a dentist in Sweetwater no less than twice a year. The thorough dental examinations that take place during office visits are often the only way that existing cavities can be identified and treated. Not only that, it may be that during one of these routine appointments that the initial indications of oral cancer will be spotted. Allowing this condition to go undiagnosed can lead to extremely serious ramifications to the health of the patient.
To learn about our family dentistry practice in Sweetwater, call today at or make an appointment.
Advanced Dental Care offers affordable family dentistry and gentle, compassionate dental care in Sweetwater. With 21 affiliated practices throughout Florida, our offices are conveniently located with extended hours to meet your needs. At , we provide most dental services, from basic preventative care and general dentistry to specialized procedures and complete dental reconstruction. We accept most dental insurance plans and offer affordable financial solutions for any budget. Patient satisfaction is our top priority and we strive to provide the exceptional, affordable dental care and personal touch that lead to lasting relationships. A smiling patient is our greatest reward and we look forward to keeping those smiles healthy, beautiful, and bright. Discover an affordable dentist who truly cares at .