Heed Warning Signs to Maintain Dental Health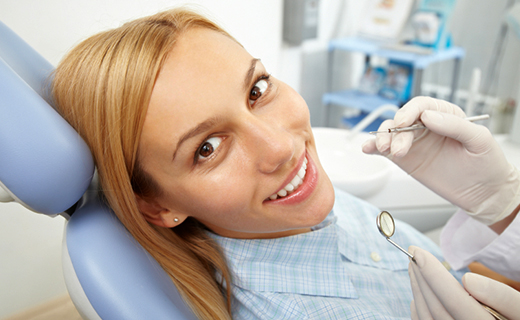 Even for those who have always enjoyed healthy teeth and gums and have actually looked forward to regular dental check-ups, the aging process can bring a series of unpleasant surprises. While in some cases, failure to follow sound dental care practices may be the cause of increased dental problems, age itself is the reason for many such complaints. Luckily, by heeding a few critical tips, it is possible for patients to use dental warning signs to their advantage and make the adjustments necessary to keep the teeth healthy.
One of the first noticeable dental warning signs frequently experienced by middle-aged and older patients is that characterized by unusual twinges of pain. Because fluoridated water supplies were not as common when people in this age group were children, cavities were more common and, consequently, fillings were, too. As a result, teeth that have been filled in the past are more prone to developing new cracks that can serve as harbors for bacteria. Receding gum lines that occur with age can also be primary entry points for decay-causing bacteria. Brushing, flossing, using mouth rinses, and making regular visits to an affordable dentist are the best ways to stave off this type of pain and treat its causes.
Another dental care red flag is the one relating to sensitive teeth. In many cases, this type of sharp discomfort upon eating or drinking hot or cold substances is a sign of periodontal disease that has caused gum erosion. Bacterial buildup at the gum line can cause bleeding when brushing, and it can also erode tissue and make its way into the bloodstream. This increases the risk of diabetes, heart disease, and other dangerous conditions. To prevent these outcomes, it is important to seek thorough dental cleanings from an affordable dentist on a regular basis and use antibacterial rinse products often. Vigilant flossing can also work wonders in terms of halting the progression of this damage.
Finally, when it comes to heeding dental health warning signs, one of the most important things to watch for is oral dryness. Saliva is a terrific antibacterial agent that works to stave off acid production in the mouth. Not only that, it contains minerals that can actually strengthen tooth enamel. However, mouth dryness is a problem that affects significant numbers of individuals of middle age and older. Many such cases can be attributed to common medications that have dry mouth as a side effect, and they may sometimes be solved by a change in prescription. However, prevention in the form of tongue scraping and the use of xylitol-containing gums or candies is perhaps the best way to stay on top of something that can be harmful if left unchecked.
To get the dental care you deserve from an affordable dentist in Sweetwater, call today at or make an appointment.
Advanced Dental Care offers affordable family dentistry and gentle, compassionate dental care in Sweetwater. With 21 affiliated practices throughout Florida, our offices are conveniently located with extended hours to meet your needs. At , we provide most dental services, from basic preventative care and general dentistry to specialized procedures and complete dental reconstruction. We accept most dental insurance plans and offer affordable financial solutions for any budget. Patient satisfaction is our top priority and we strive to provide the exceptional, affordable dental care and personal touch that lead to lasting relationships. A smiling patient is our greatest reward and we look forward to keeping those smiles healthy, beautiful, and bright. Discover an affordable dentist who truly cares at .