Posted under:
Root Canal
Posted on: December 28, 2020
Invisalign: Frequently Asked Questions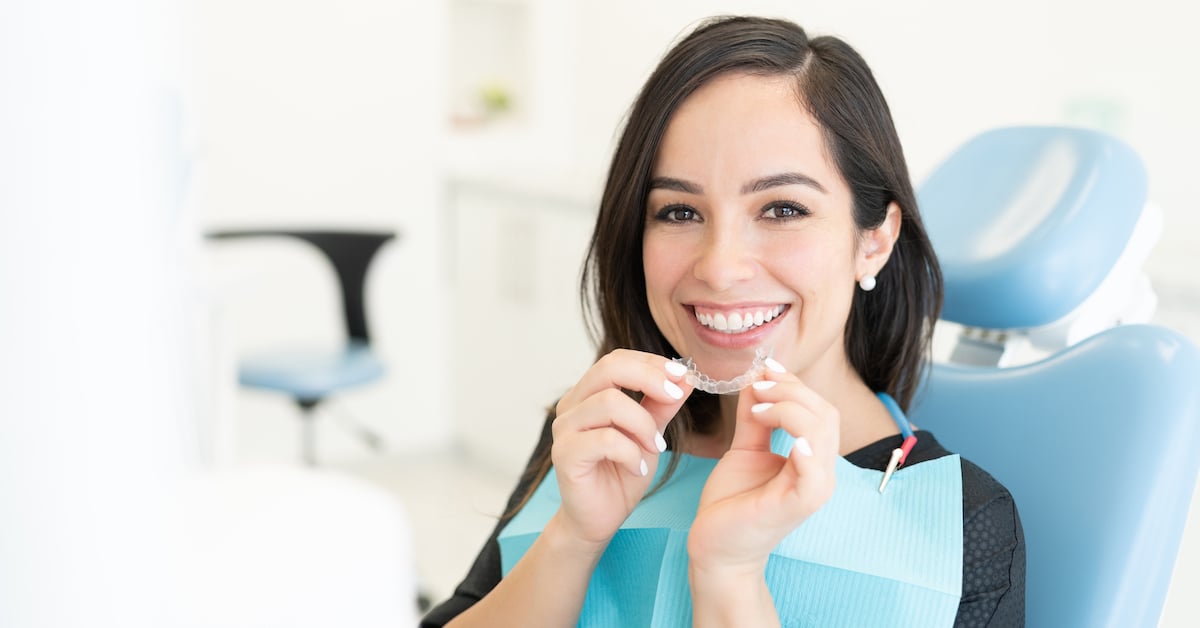 Are you hesitant to smile because of your misaligned and crowded teeth? Do you feel like your appearance is never as good as it could be because of a lackluster smile? If so, then the Invisalign system of aligner trays could be the answer for you.
Created by several Stanford University students and alumni, the Invisalign aligner trays look like whitening trays but hug the teeth snugly and use gentle pressure to guide misaligned teeth into a proper alignment. Invisalign has successfully straightened the teeth of millions of people worldwide and has been doing so for three decades. Their primary attraction is that they're virtually invisible, but they're also comfortable and effective.
Is Invisalign a Brand of Braces?
Invisalign is not considered braces as you normally think of them. Rather than the wires-and-brackets of traditional metal braces or some other types of braces, the Invisalign system uses clear aligner trays to move teeth into proper alignment using gentle pressure.
The trays are made of a space-age plastic called SmartTrack, which is free of gluten, latex, BPA, and BPS. It's also FDA-approved, so it's safe to use inside your mouth. The trays are very thin and very flexible, so they fit your teeth very snugly, and they won't slip or move or fall out.
Who Can Benefit From Invisalign?
The Invisalign system is typically used for adults and older teens who have all of their permanent teeth fully erupted from the gums. The trays are appropriate for those with moderate dental misalignments. Those who have severe malocclusion issues might need a more traditional or intensive type of device rather than Invisalign.
Usually, the Invisalign aligner trays aren't used for children or young teens because their teeth are still growing and changing. This makes it difficult to fabricate aligner trays that will fit and be comfortable. If you're considering the Invisalign system, then take into consideration how you respond to the following questions:
Are your permanent teeth fully erupted? If you have all of your permanent teeth and they have fully erupted, then Invisalign may work for you.
Will you wear your trays as required? Your trays must be worn if they're to be effective. Although they can be removed for special occasions, you need to be dedicated to wearing the trays for 20 to 22 hours each day. Since children and young teens may lack the discipline to wear the trays as required, they're not usually good candidates for the Invisalign system.
Does invisibility matter to you? If you're indifferent to the appearance of traditional metal braces, then the Invisalign system might not be your best choice. However, if the invisibility aspect appeals to you as well as the ability to remove the trays for special occasions, then you may be a good candidate for the Invisalign system.
If you and your dentist decide that you're a good candidate for the Invisalign system, then we'll proceed with the treatment.
What Is the Procedure for Getting Invisalign?
When you opt for Invisalign treatment, you can expect the following procedure when you come to our office:
We'll make an impression of your teeth and gums, which we'll use to fabricate your aligner trays. Since we custom-fit the impression to the contours of your gums and teeth, your trays should be very comfortable. They'll fit very snugly, so you won't need to worry about them slipping or sliding or falling out.
Approximately every week or every other week, you'll receive a set of new aligner trays. These will be shaped slightly differently than your previous set of trays so that the realignment procedure can be effective. You may feel slight discomfort for a few hours or a day after you insert the new trays, but this is normal. It's caused by the increased pressure of the new trays but should dissipate after a day. It's the next step in the process of gradually realigning your teeth.
You'll need to schedule a checkup appointment in our office every four to six weeks so that we can make any adjustments that are necessary.
By the date of your first checkup, you should notice an improvement in your tooth alignment.
Will Invisalign Change My Lifestyle?
The Invisalign procedure isn't invasive, so you shouldn't notice a drastic change in your lifestyle. However, there may be some habits that need to be altered, at least temporarily, such as:
Discontinue the use of any type of tobacco product for the duration of your procedure. It doesn't matter whether you chew, dip, smoke, or vape. All tobacco products will stain your trays just like they stain your teeth. If you are considering quitting temporarily for the duration of your treatment, this might actually be an ideal time to quit altogether.
You shouldn't chew gum when wearing your aligner trays. If you must chew a stick of gum, be sure to remove your trays beforehand.
Don't eat or drink anything other than plain water when wearing your trays. Foods and the chewing process can damage your trays, so avoid eating or drinking anything other than plain water when wearing your trays. Hot temperatures can warp your trays, and food particles that lodge underneath them can cause cavities and decay, which will interrupt and extend your treatment time.
Be assiduous in brushing and flossing after you eat or drink and before you replace your trays. For the best protection, use an antibacterial mouthwash before reinserting your trays to eliminate any bacterial residue.
If you have any questions, be sure to ask us.
What Happens When My Treatment Concludes?
When you've completed your Invisalign procedure, your dentist will probably recommend that you wear a retainer at night. Usually, it's for less than a year, but it will keep your teeth from reverting to their previous misaligned position, so it's important to wear the retainer as directed.
How Can My Local Dentist Help?
Only dentists who have been specially trained and certified by Invisalign can offer genuine Invisalign aligner trays. If your dentist doesn't have the Invisalign certification, then they may be able to offer imitations, but not the genuine Invisalign aligner trays.
If you're interested in the Invisalign system, then call Sweetwater Smiles at (321) 594-2628 to schedule an appointment. We can help you achieve the beautiful smile you've always wanted, so call us today for an appointment. You'll be glad you did.