Overcoming Issues with Dentures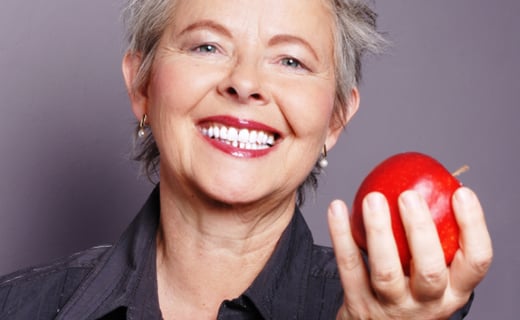 Dentures solve one problem, but then come with a whole host of other problems. Although dentures can be an optimal replacement for lost or missing teeth, they require a period of adjustment. The good news is that denture options have vastly improved over the last several years, offering wearers fewer issues, greater comfort, and a more natural look. If you are suffering from lost or missing teeth, consider dentures—a more affordable option than dental implants.
Use this guide to help you make the transition into your new set of dentures easier and gain a better understanding of the care necessary for maximal denture function. Whether you have temporary or permanent dentures, you need to properly care for them to ensure that your dental health remains intact and your dentures last.
Problems with Denture Use
Failure to keep your mouth clean and healthy can lead to issues with denture wear, including difficulty eating, challenges with speaking, instability of the dentures in the mouth, irritation of the gums and mouth, and oral infections. These three tips can help new denture wearers avoid potential problems:
Maintain the fit of your permanent dentures – Gums can change and bones can shift over time, causing your dentures to fit less comfortably. To prevent complications, potentially embarrassing moments, and improve your comfort, have your dentures assessed regularly for adjustments, modifications, or replacement. Your dentist in Sweetwater should always advise and assist you with denture adjustments—never attempt to adjust your dentures yourself.
Practice talking– New dentures require an adjustment period. You may have to practice smiling, laughing, and speaking at home when you first get your dentures.  Certain words can be more difficult to say than others, but be patient. With time and practice your natural speech pattern will be restored. If notice movement of your dentures with basic mouth movements and it doesn't improve with time and practice, talk to an affordable dentist—a denture adjustment may be needed.
Consume soft foods – Eating, like speaking, requires an adjustment period. In the beginning, follow these tips and eat more soft foods than crunchy or chewy foods.
Take small bites and chew your food slowly
Distribute food evenly on both sides of the mouth to even out chewing
Choose soft foods, such as yogurt and eggs
Avoid sticky foods, candies, and gum
Stay patient—eating will become easier with time and practice
To get the dental care you deserve from an affordable dentist in Sweetwater, call today at or make an appointment.
Advanced Dental Care offers affordable family dentistry and gentle, compassionate dental care in Sweetwater. With 21 affiliated practices throughout Florida, our offices are conveniently located with extended hours to meet your needs. At , we provide most dental services, from basic preventative care and general dentistry to specialized procedures and complete dental reconstruction. We accept most dental insurance plans and offer affordable financial solutions for any budget. Patient satisfaction is our top priority and we strive to provide the exceptional, affordable dental care and personal touch that lead to lasting relationships. A smiling patient is our greatest reward and we look forward to keeping those smiles healthy, beautiful, and bright. Discover an affordable dentist who truly cares at .