Reasons and Remedies for Tooth Discoloration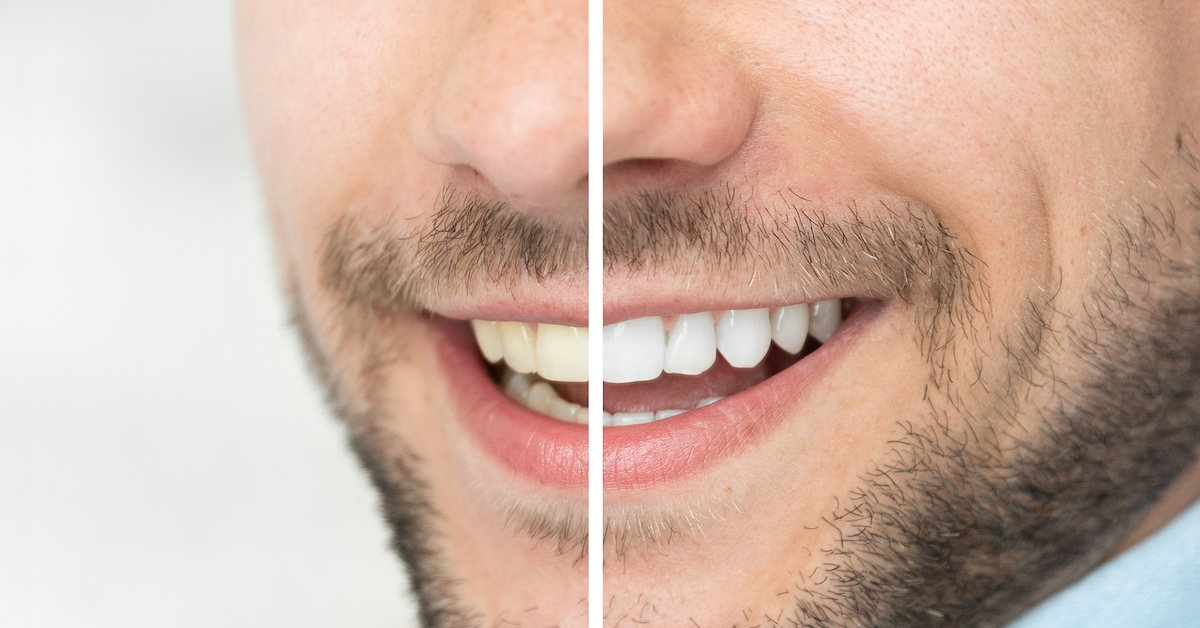 If you have yellowed or stained teeth, you may be less likely to show off your smile to the people you meet. The good news is that you can get help in restoring your smile to its former beauty with the latest and most practical solutions for all your dental care requirements. There are professional teeth whitening services in our office and proven recommendations for helping keep your teeth whiter and your gums healthier. This can add up to a brighter smile and greater self-confidence in all your interactions with others.
What Causes Tooth Discoloration?
Dental experts cite a range of issues that can lead to tooth yellowing and discoloration. Some of the most common reasons for these unsightly problems include the foods and beverages you eat and drink, the use of tobacco and the presence of tooth decay:
Failing to brush and floss your teeth properly can lead to a buildup of plaque on your teeth. This can cause cavities and areas of tooth decay, which can be responsible for a darkening or discoloration of the enamel of your teeth.
Smoking is a common reason for yellowing of the teeth. The nicotine and tars in tobacco can adhere to the tooth enamel and soak in through tiny pores in the surface of this hard material. Over time, this can make teeth less white and can reduce the attractiveness of your smile. The use of snuff or chewing tobacco can also have similar effects on your teeth and your overall state of dental health.
Improper diet can also weaken your teeth. Eating foods with calcium, minerals and omega-3 fatty acids will provide structural strength for your teeth and will brighten your smile to help you feel more self-assured and confident every day.
Certain medications may also cause tooth discoloration. Especially if you were given some types of antibiotics in childhood, these drugs may have a long-term effect on the coloration of your tooth enamel.
Consuming too many sugary or starchy snacks or drinks can cause tooth decay, which is often an underlying cause of weakening of tooth enamel and a darker color for your teeth.
Tea, coffee and wines that contain tannins are also capable of causing staining that could affect the appearance of your tooth enamel.
Your dentist will most likely be able to provide you with professional recommendations on the best lifestyle changes to keep your teeth healthier. This can often translate directly into more attractive smiles for you and every member of your family.
Choosing the Right Foods and Drinks
Some foods and drinks are much healthier for your teeth. For instance, drinking plenty of water can dilute or rinse away bacteria and plaque. This makes it easier for your mouth to stay healthy and clean. Considering drinking more water and you'll stay hydrated and your teeth will be happy!
Drinks that contain no sugar are also useful in managing the substances that contribute to tooth decay, but be careful and always drink these types of beverages in moderation as they contain other chemicals and alternate sugars.
Cocoa, some types of fish and foods containing flaxseed are rich in anti-inflammatory substances that can reduce your risk of gum disease and gingivitis. Finally, calcium-rich foods like cheese or milk build stronger bones and healthier teeth. If you are looking for foods to help fight staining and discoloration, the best advice is to follow a health diet with lots of fresh fruits and vegetables.
How Tobacco Damages Tooth Enamel
Smoking or chewing tobacco is one of the worst things you can do for the health of your teeth and your gums. The nicotine and tar produced by tobacco smoking can soak directly into your tooth enamel to weaken its structure and to cause severe yellowish or brownish stains on teeth. These chemicals can also cause inflammation of the gums, which is a precursor to many forms of gum disease. By taking steps to stop smoking or chewing tobacco now, you can protect your teeth while saving money and improving your overall quality of life and health.
Fighting Tooth Discoloration From Tobacco
If you do smoke, brushing and flossing is even more important to remove the tar and nicotine deposits left behind after engaging in this activity. Ask your dentist to recommend mouthwash options that can reduce the chance of developing gingivitis because of inflammation of the gums. If you want to stop smoking, your dentist may be able to provide you with some guidance or helpful hints in managing this process effectively.
How to Prevent Tooth Discoloration
Some of the most effective ways to prevent your teeth from becoming discolored are simple and easy to manage. It is recommend that you follow the following common-sense solutions that include the following:
Brush after each meal and floss at least once daily.
Schedule teeth cleaning appointments with your dentist's office twice yearly.
Brushing after smoke breaks or chewing tobacco can also reduce the amount of nicotine and tar absorbed by your tooth enamel.
Rinse your mouth after snacks and drinks if you cannot easily brush your teeth.
If none of these solutions are working for you, there are other solutions available that are designed to remove stains and to brighten the appearance of your teeth. These options are available through our dentists and offer practical help in managing discolored teeth effectively.
Professional Strategies for Whiter Teeth
There are a range of options available for whitening your teeth and brightening the appearance of your smile. While over-the-counter solutions can sometimes produce results, they may also be responsible for increasing the sensitivity of your teeth to cold or pressure. Most dental offices can provide take-home kits designed specifically to address your needs. They will also be able to perform in-house whitening treatments that produce dramatic results for you and other members of your family. If more help is needed, we also offer veneers and crowns that can cover up stains and support teeth that may be weakened or fragile because of injury or tooth decay.
To learn more about the whitening services we offer, call Sweetwater Smiles today at (321) 594-2628. We will be happy to set up a consultation with you and your family.