Should You be Concerned about Gingivitis?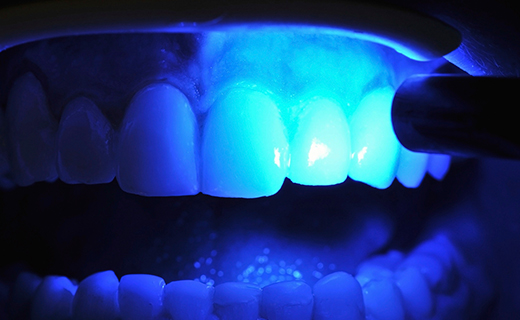 Gingivitis. You see that word splashed in large letters across your bottle of mouthwash. You hear the word boom from the voiceover on the mouthwash commercial. So, now you know you need mouthwash to prevent gingivitis, but what exactly is gingivitis? Should you be concerned? Yes, you should be concerned. Gingivitis is the initial stage of gum disease, when the tissues surrounding and supporting the teeth become inflamed, red, and swollen. If left untreated, gingivitis can progress into periodontitis, the severe form of gum disease that often leads to tooth loss. Gingivitis and, in turn, periodontitis can be prevented with proper dental care and routine visits to your family dentistry professionals.
Gingivitis is the inflammation of the gums that can advance to periodontal disease, which not only destroys the gums, but the bone that supports the mouth.
Gingivitis begins when food and debris mix with bacteria in the mouth, forming plaque that sticks to the teeth. Over time, plaque that isn't removed turns into tartar, which can only be removed by a professional dental cleaning.
Untouched, plaque and tartar can erode the teeth and invade the tissues of the gums causing gingivitis. Gingivitis is inflammation that can rapidly develop into an infection. When the bone that supports the mouth becomes infected and the gums recede away from the teeth, it is periodontitis. Pockets can form in the gum tissue and collect bacteria, ultimately destroying the gums and bone of the jaw. The teeth become loose in their sockets and fall out.
Gum disease is a result of poor oral hygiene; however, there are other factors that increase the risk of developing gingivitis. Some examples are the following:
Tobacco use—smoking cigarettes or chewing tobacco—prevents gum tissue from healing.
Rotated, crooked, or overlapping teeth can create areas for bacteria, plaque, and calculus to hide and accumulate, making it important to see your dentist in Sweetwater frequently or seek orthodontic correction.
Fluctuating hormones during puberty, pregnancy, and menopause are often correlated with a rise in gingivitis. During these times, hormone levels increase, leaving the blood vessels in the gums susceptible to bacterial and chemical attack.
Excessive or chronic stress can impair the body's immune response, increasing levels of inflammation in the mouth and contributing to disease throughout the body. Learn to relax.
Diets high in sugar and starchy carbohydrates increase the formation of plaque, while low nutrient intake can impair immune function.
Drink plenty of water. Water helps the system flush bacteria from the mouth.
To get the dental care you deserve from an affordable dentist in Sweetwater, call today at or make an appointment.
Advanced Dental Care offers affordable family dentistry and gentle, compassionate dental care in Sweetwater. With 21 affiliated practices throughout Florida, our offices are conveniently located with extended hours to meet your needs. At , we provide most dental services, from basic preventative care and general dentistry to specialized procedures and complete dental reconstruction. We accept most dental insurance plans and offer affordable financial solutions for any budget. Patient satisfaction is our top priority and we strive to provide the exceptional, affordable dental care and personal touch that lead to lasting relationships. A smiling patient is our greatest reward and we look forward to keeping those smiles healthy, beautiful, and bright. Discover an affordable dentist who truly cares at .