Stopping Gum Disease in Its Tracks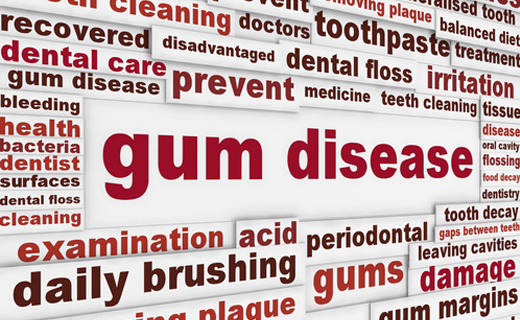 You may have been warned about gum disease in the past, but never paid much attention to what the condition truly entails. The fact is that preventing gum disease from developing or reversing gum disease that has already taken hold is vital to having a healthy mouth. Perhaps you have heard about the dangers of gum disease, but need to know more about the subject. Understanding the causes, dangers, and key prevention techniques is critical if you are to keep your teeth and gums as healthy as possible. Keep reading to learn some key facts about the condition often referred to as gingivitis.
Gum disease, also known as gingivitis, is essentially an inflammation of the tissue that supports and surrounds teeth. Typically the result of inferior dental care, gum disease is actually quite common. Known for producing swollen, red gums that bleed during flossing and brushing, gingivitis is the first step toward the more serious condition known as periodontal disease.
Gingivitis mainly impacts the gums, while periodontal disease is marked by inflammation and infection of the bone that lies beneath those gums. Gum disease begins when food particles and saliva combine to produce bacteria, which in turn forms plaque buildup. When not properly and regularly removed, plaque mineralizes to form tartar that must be removed by a dental hygienist at a family dentistry practice.
Irritation and gingivitis develop when plaque is allowed to remain on the teeth and gums. If this gum disease goes untreated, it can spread to the bone and become periodontal disease, which is far more serious. At this point, the bone and gums will recede from the teeth, causing pockets to develop that are havens for additional bacteria and plaque. Ultimately, bone tissue will continue to degrade and your teeth may loosen and fall out.
Typically, gum disease is caused by poor dental hygiene, but there are additional risk factors that include smoking cigarettes, poor diet, and stress. Puberty and pregnancy have also been linked to increased incidence of gingivitis, as has diabetes. Anti-seizure drugs and other medications can also produce increased risk of gum disease.
Reversal of gingivitis is possible, provided you take steps to correct the poor habits that caused the condition to develop. Removal of plaque is key, but follow that up with solid dental care routines, routine visits to an affordable dentist in Sweetwater, fluoride treatment, and possibly antibiotic therapy if you want to stop gingivitis in its tracks and prevent it from turning into periodontal disease.
To learn about our family dentistry practice in Sweetwater, call today at or make an appointment.
Advanced Dental Care offers affordable family dentistry and gentle, compassionate dental care in Sweetwater. With 21 affiliated practices throughout Florida, our offices are conveniently located with extended hours to meet your needs. At , we provide most dental services, from basic preventative care and general dentistry to specialized procedures and complete dental reconstruction. We accept most dental insurance plans and offer affordable financial solutions for any budget. Patient satisfaction is our top priority and we strive to provide the exceptional, affordable dental care and personal touch that lead to lasting relationships. A smiling patient is our greatest reward and we look forward to keeping those smiles healthy, beautiful, and bright. Discover an affordable dentist who truly cares at .