Tips for Living with Braces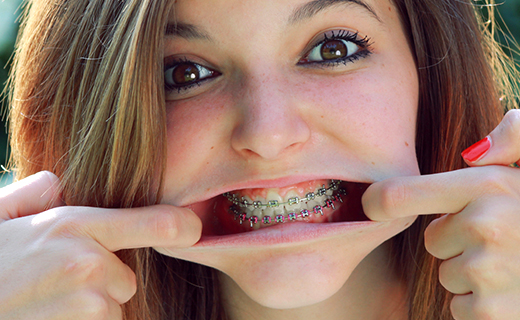 Do you wear braces or are you contemplating getting braces so you can have that stunning smile you have always dreamed of? If so, the following information is intended to help you live the best possible life while your orthodontic treatment is underway.
It is not uncommon for patients with braces to be concerned about the sorts of foods they can eat and which ones really ought to be avoided. For the initial few days with braces, you will probably want to stick to a diet comprised primarily of soft foods. Hard bread products, tough meat, and crisp raw produce should be left off of the menu until you feel more comfortable with your braces. But, once you are acclimated to wearing them, you can enjoy a wide range of the foods you have always enjoyed. Just steer clear of things like caramel candy, bagels, whole apples, and popcorn, and you will be just fine.
If you start experiencing a bit of pain or discomfort in the first few days after getting your affordable braces, you are not alone. Some useful things to try include rinsing with warm salt water and taking your usual over-the-counter pain reliever. If the inside of your mouth, tongue, cheeks, or lips become irritated by the presence of your new braces, you can use wax as instructed by your team of family orthodontics experts to dull the rough edges.
Loosening of the bands or wires that comprise your braces is not uncommon and can be easily remedied. If you notice that a wire starts to protrude within the mouth and cause you discomfort, simply find a tool with a blunt edge and gently press the wire back into place. Wax applied to the wire's edge can help reduce irritation. Give your orthodontist a call so that you can make an appointment to make sure everything is where it should be.
Dental care practices must remain thorough while you wear your braces, and rigorous brushing and flossing routines must be observed as usual. Take special care to remove food debris from the braces themselves to prevent bacterial growth, plaque buildup, and tooth decay.
Lastly, it is essential that you take proper care of your appliances and wear them precisely as prescribed. Adhering to your orthodontist's instructions regarding the use of headgear, retainers, and rubber bands is critical to keeping the duration of your treatment as short as possible. If you like to play sports, make sure you use a mouth guard to prevent expensive damage from happening to your otherwise affordable braces.
To get the dental care you deserve from an affordable dentist in Sweetwater, call today at or make an appointment.
Advanced Dental Care offers affordable family dentistry and gentle, compassionate dental care in Sweetwater. With 21 affiliated practices throughout Florida, our offices are conveniently located with extended hours to meet your needs. At , we provide most dental services, from basic preventative care and general dentistry to specialized procedures and complete dental reconstruction. We accept most dental insurance plans and offer affordable financial solutions for any budget. Patient satisfaction is our top priority and we strive to provide the exceptional, affordable dental care and personal touch that lead to lasting relationships. A smiling patient is our greatest reward and we look forward to keeping those smiles healthy, beautiful, and bright. Discover an affordable dentist who truly cares at .