Posted under:
General
Posted on: October 27, 2014
Understanding Dental Anxiety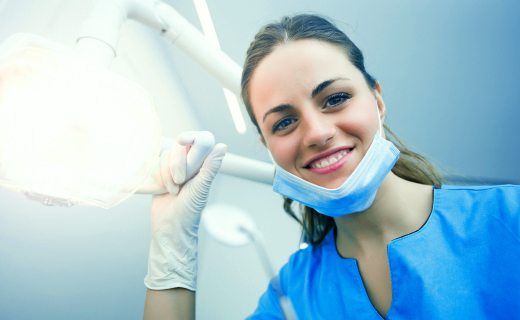 Dental anxiety and dental phobia are serious problems that affect up to 15 percent of Americans. Although most dental procedures aren't painful, the mere thought of an examination can trigger symptoms that cause many people to avoid getting the dental care they need to stay healthy. Signs of dental fear include insomnia the night before an appointment, nervousness in the waiting room, crying or extreme fear. Physical symptoms like nausea, stomach pain, headache, dizziness, sweating, shortness of breath, and tremor may also occur.
Simple Fear of Dentist vs. Serious Phobia
Simple anxiety over seeing the dentist shouldn't be confused with dental phobia. While most people can tolerate anxiety symptoms, phobia symptoms may be disabling. A phobia causes more intense effects such as full-blown panic attacks and irrational thoughts or actions. People with dental phobia are at higher risk for gum disease and tooth loss, and they may even have poor general health because of dental neglect. Fortunately, both conditions can be treated once the cause is determined.
Causes of Dental Anxiety
Fear of pain the most common cause of dental anxiety. It is especially common in adults who experienced pain during dental procedures before modern pain-free techniques were prevalent.
Loss of control and feelings of helplessness can fuel dental fear. In a dentist's chair, many people feel confined and unable to predict or control what is happening to them. These perceptions can trigger anxiety and panic symptoms.
For some, embarrassment or self-consciousness about the condition of their teeth or possible bad breath causes feelings of dread. Dental treatments require unusually close contact; having the dentist's face mere inches away can be uncomfortable.
A negative experience from the past can haunt a dental patient for decades. Pain, discomfort, trauma, or embarrassment during a procedure will make it more difficult to face the next appointment.
Combating Dental Fear
Talking to their dentist can help many people who experience anxiety or phobia during dental visits. If symptoms are severe, a mental health consultation may be necessary.
To get the dental care you deserve from an affordable dentist in Sweetwater, call today at or make an appointment.
Advanced Dental Care offers affordable family dentistry and gentle, compassionate dental care in Sweetwater. With 21 affiliated practices throughout Florida, our offices are conveniently located with extended hours to meet your needs. At , we provide most dental services, from basic preventative care and general dentistry to specialized procedures and complete dental reconstruction. We accept most dental insurance plans and offer affordable financial solutions for any budget. Patient satisfaction is our top priority and we strive to provide the exceptional, affordable dental care and personal touch that lead to lasting relationships. A smiling patient is our greatest reward and we look forward to keeping those smiles healthy, beautiful, and bright. Discover an affordable dentist who truly cares at .