What is Periodontal Disease?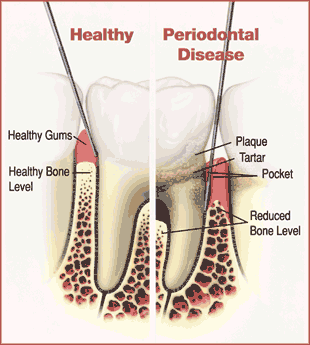 If you're like 100 million other Americans, you could be one of 50% of American adults who have periodontal disease, the major cause of tooth loss in adults. Periodontal disease is caused by plaque, a biofilm containing over 600 types of bacteria which eventually hardens, forming calculus (also known as tartar).
Calculus deposits harbor bacteria which infect the gums. In early stages, this is called Gingivitis, characterized by red, swollen, inflamed gums that bleed when you brush or floss your teeth. Many people experience bad breath and an unpleasant taste in their mouths as well. Unchecked, Gingivitis progresses to Periodontitis, a much more serious form of the disease where periodontal pockets are formed, separating teeth from the gums and destroying the supporting bone structure. Without treatment, infection becomes severe and the pockets deepen, resulting in tooth loss.
Utilizing the Periolase MVP-7® Laser to do LANAP
We would like to introduce you to laser periodontal therapy™, an amazing breakthrough in periodontal treatments using the ONLY FDA approved laser for periodontal therapy. If you have been told you need scalpel and suture gum surgery, this is a laser alternative you need to learn about.
The way to repair the damage is to get rid of the infection and close up the pockets. Until now, that meant surgery and sutures. But today,  laser periodontal therapy™ (LPT™) provides a patient-friendly, minimally-invasive procedure that's a great improvement over standard gum surgery.
What Is LANAP?
The LPT Procedure is so unique, it's patented! It's called Laser Assisted New Attachment Procedure (LANAP). If you would like, we will schedule a complimentary consultation to explain how the laser works and let you watch a video that explains the procedure in detail. If you decide that you would like to proceed, we will make you an appointment for a comprehensive examination and X-rays so that we can make a definitive diagnosis and determine the extent of the infection.
When you return for your first LPT™ treatment, you'll receive a local anesthetic to eliminate any possible discomfort. Although laser periodontal therapy™ is much less traumatic than traditional periodontal surgery, we are able to provide light sedation for those patients who are still anxious. A tiny laser fiber (about the thickness of three hairs) is inserted between the tooth and the gum, and the infection is cleared away. The procedure is fast: It takes just two 2-hour sessions. We will treat one half of your mouth at each session…and you'll probably feel good enough to go right back to work afterwards.
Laser Periodontal Therapy Steps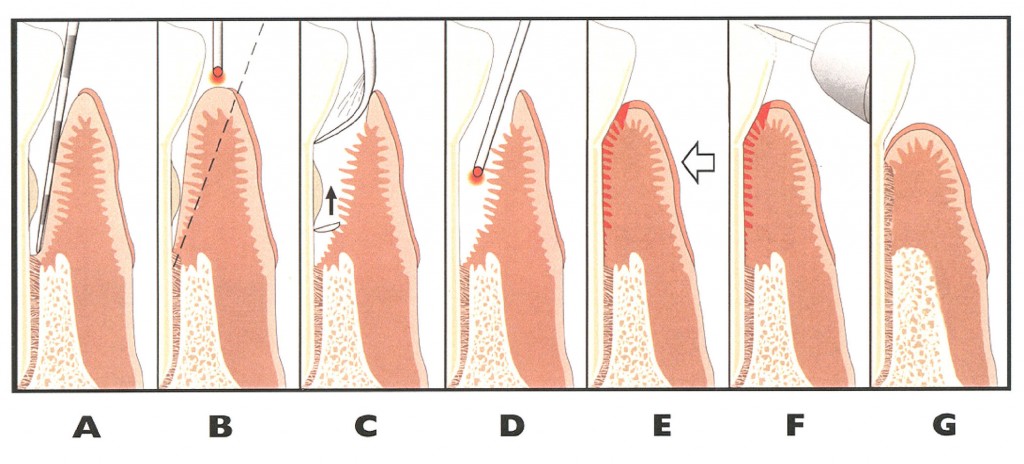 A – The probe indicates excessive pocket depth.
B – Pulsed laser irradiation selectively removes diseased tissue and pathological proteins, and opens the pocket for access and visibility.
C – Ultrasonic scaler and special hand instruments are used to remove the tartar from the root surface.
D – Laser finishes debriding pocket and establishes coagulation.
E – The tissue is compressed against the root surface and a stable fibrin clot forms along the gumline.
F – The bite is adjusted and equilibrated to prevent excessive (traumatic) chewing forces from interfering with healing.
G – Healing with new attachment of the gums to the tooth.
Why is LPT™ better?
LPT™ is very easy — there's no cutting and no suturing.
Although LPT™ with the Periolase has many applications, it is not a substitute for gingival grafts. If you suffer from receding gums, then you'll need to see a periodontist for the grafts.
There's much less discomfort with laser periodontal therapy™ than with standard surgery—during and after the procedure.
It takes less time than traditional surgery. All it takes is two 2-hour visits to the dentist and two follow up visits. Traditional surgery requires four sessions of about one hour each, with subsequent visits for suture removal and additional check-ups.
LPT™ gives better, longer-lasting results. In fact, 98% of LPT™ treated patients remain stable after five years, while only 5% reportedly remain stable after surgery.
We will recommend a soft diet for a day or two, and common sense should prevail, but in most cases, patients feel good enough to eat anything they want right after the procedure.
Following traditional surgery, recovery can take between to 2-4 weeks during which patients can experience considerable pain and swelling, where they may be restricted to liquid or soft diets.
There's less than 24 hour recovery period, so you won't lose time from work.
laser periodontal therapy™ is safe for patients with health concerns such as diabetes, hemophilia, or those taking medications such as Coumadin.
For more information on Laser Periodontal Surgery using the the Periolase MVP-7 to perform LANAP, visit the Periolase Dentists website.
Call us today at (321) 594-2628 or book an appointment online.
LANAP Videos
The following videos will help explain the differences are between LANAP and other options such as Scaling and Root Planing (the so-called Deep Cleaning), and traditional "cut & sew" gum surgery. After watching these videos you ought to be able to make an informed decision as to what's the best treatment for you.
Part I – Dr. Dawn Bloore explains the basics of periodontal disease and how LANAP comfortably treats this condition.
Part II – Dr. Dawn Bloore continues on with a detailed explanation of just what is involved with the Laser Assisted New Attachment Procedure (LANAP), along with the pros/cons of this procedure versus traditional gum surgery.
Part III – Dr. Dawn Bloore completes her explanation of LANAP, along with the pros/cons of this procedure versus traditional gum surgery.
Dr. Bob Gregg (one of the co-inventor's of the Periolase MVP-7 and the LANAP procedure) is interviewed by ABC news about Laser Assisted New Attachment Procedure.